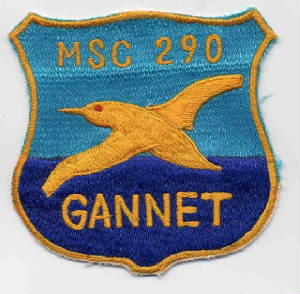 Courtesy of Dick Gorby
Albatross Class Coastal Minesweeper: Laid down, 1 May 1959 by the Tacoma Boat Building Co., Tacoma, WA; Launched, 26 May 1960; Commissioned 14 July 1961; Struck from the Naval Register in 1970. Fate unknown.
Specifications: Displacement 320 t.; Length 144'; Beam 28'; Draft 9'; Speed 13 kts; Complement 50; Armament two .50 cal. machine guns and one 81mm mortar; Propulsion Harnischfeger diesel engines, two shafts.
Coastal minesweeper nonmagnetic construction, wooden hull and stainless steel, aluminum, and bronze engine and hull fittings.Fitted with UQS-1 sonar. Range is 2500 miles at ten knots

WOODEN SHIPS AND IRON MEN a book by CDR David D.Bruhn USN RET.The history of our MSO's from 1953 to 1994. To learn more about this excellent minesweeper book please visit CDR Bruhn's website at the link below.

Mesothelioma

Center