COMMANDING OFFICERS
| | |
| --- | --- |
| | |
| | |
| | |
| LTJG R.E.Swain (Acting) | 11 Apr 1965-30 Apr 1965 |
| LT J.L.Melton | Apr 1965-Apr 1967 |
| LT R.E.Black | Apr 1967-1969 |
| LT R.F.Schuerger | 1969-Apr 1970 |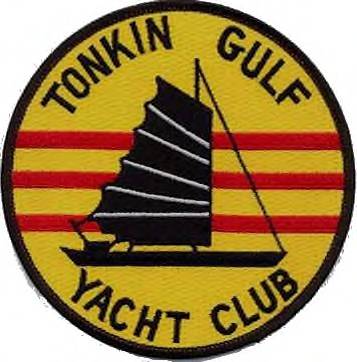 Armed Forces Expeditionary Medal (1),Combat Action Ribbon (2),Republic of Vietnam Gallantry Cross Unit Citation (1) and Vietnam Service Medals (8).
The second Gannet was laid down 1 May 1959 by the Tacoma Boatbuilding Co., Inc., Tacoma, Wash.; launched 2 May 1960 [correction 26 May]; sponsored by Mrs. Frank P. Luongo, Jr.; and commissioned in the Puget Sound Naval Shipyard 14 July 1961, Lt. E. L. Gaylor in command.
After shakedown, Gannet departed Puget Sound 4 August and arrived Long Beach, Calif., 9 August. As a unit of Mine Division92, she operated off southern California and conducted exercises in mine countermeasures. During the first 2 weeks in June 1962 she participated in Joint Task Force 8 nuclear tests off the California coast. Local operations out of Long Beach continued until 2 July when she departed for Japan via Pearl Harbor, Midway, and Guam, arriving Sasebo 13 August.
After type training off the Japanese coast with Mine Division32, she departed Sasebo 1 October for Chinhae, Korea, where she joined in mine force exercises with units of the Republic of Korea Navy. After returning to Sasebo 7 October, she steamed to Okinawa, Hong Kong, and Taiwan before returning to Japan early in November for additional type training that included schoolship service out of Yokosuka.
During the next 2 years Gannet continued operations out of Sasebo Mine warfare exercises and training in mine countermeasures sent her to Korea, Okinawa, Taiwan, Hong Kong, and the Philippines. During July and August 1964 she performed special mine countermeasure operations in the South China Sea while supporting U.S naval operations along the coast of Vietnam. She returned to the South China Sea in February1965; participated in a joint amphibious exercise with ships of the Thailand Navy; then steamed to the Vietnamese coast in mid-April to resume special duty.
Gannet returned to Sasebo 24 May and for more than 6 months operated along the coast of Japan. Early in December she returned to the coast of Vietnam, where she joined Operation "Market Time" as a coastal surveillance patrol ship. During her patrols she inspected hundreds of Vietnamese fishing boats in an effort to control the infiltration of Viet Cong troops and supplies. In addition, she provided treatment for South Vietnamese fishermen requiring medical aid. She departed Vietnam 14 January 1966 and returned to Sasebo the 29th.
She served along the Japanese coast until 10 April when she again sailed for South Vietnam, arriving 10 days later to resume "Market Time" patrols. During the remainder of the year Gannet made three patrol and surveillance deployments along the Vietnamese coast. In addition she participated in SEATO minesweeping exercises in the Gulf of Thailand. At present she remains assigned to the Pacific Fleet and, operating out of Sasebo, continues to support the forces of freedom against Communist aggression in Southeast Asia.
The XO's name was "Ray" Swain who was under Capt. Abbott and took over for a short while because Capt. Abbott broke his leg In Subic bay playing baseball.He said the Gannet ended up being purchased, or given to, the Japanese. They use it as a fishing boat and replaced the old PH engines with new ones. The old lady didn't die after all….
Dick Gorby
Members of the minesweeping community; The Lucid MSO-458 Foundation was formed by a group of minesweeper crewmen who served aboard US Navy MSO's. MSO's are a class of wooden hull oceangoing minesweepers that are now decommissioned and fading from public memory. The group has obtained the USS Lucid MSO-458 and has her docked at Bradford Island, California. Work has begun! The organization is restoring her and a public museum is established. The MSO is a little known and poorly documented, extremely interesting facet of Naval history. The USS Lucid Museum is dedicated to telling the story of the minesweeping men and their wooden ships, the last all wooden US Naval ships, to navigate the oceans. We will be telling the stories of Mine Recovery and UDT teams, Floating Pigs, Hammer Boxes, Magtails, Aluminum Engines and Towed Sonar. The little known stories of Contact, Magnetic and Acoustic minesweeping as well as the mystery of Magnetic Countermeasures will be told through the displays, narratives and museum media. Typhoons, tiny ships and ice-clad superstructures are only a small part of the "Wooden Ships and Iron Men" story. From sweeping the Mekong Delta in Viet Nam, observing the final Nuclear blasts on Johnston Island to sweeping the Persian Gulf, "Where the Fleet Goes, We've Been" will be clearly illustrated. Since there is no other Naval Museum that even attempts to tell the story of the MSO the USS Lucid is an important and living detail of US Naval History. First, Lucid must undergo a restoration. Previous civilian owners for commercial use have modified her. She needs hull repairs and painting and re-outfitting to be brought back to her former Naval dignity and glory. The Lucid MSO-458 Foundation has a workforce of planners, engineers and volunteer manpower who are vested and committed to this grand and worthy project. Bringing her to life is a large financial undertaking. We're looking for tax-exempt gifts from the Military Industrial sector and individuals to help with this extremely valuable endeavor. Of course, all donors will be properly and prominently acknowledged aboard the vessel. Your donation will help preserve this vital part of Naval History. Please join us in telling the MSO story by sending a tax-exempt gift to Lucid MSO-458 Foundation, a 501 (c)(3) non-profit foundation through our website.
http://www.usslucid.org
W.W."Mike"Warren EN2