COMMANDING OFFICERS
| | |
| --- | --- |
| | Mar 1955-July 1956 |
| LT Charles P.Smith | Jul 1956-Sep 1958 |
| LT Paul J.Smith | Sep 1958-Jun 1959 |
| LT Peter Maytham | Jun 1959-Aug 1961 |
| LT B.C.Dean | Aug 1961-Oct 1963 |
| LT Jack L.Roundtree | Oct 1963-Sep 1964 |
| LT Peter F.Hedley | Sep 1964-Dec 1966 |
| LT George N.Gee | Dec 1966- |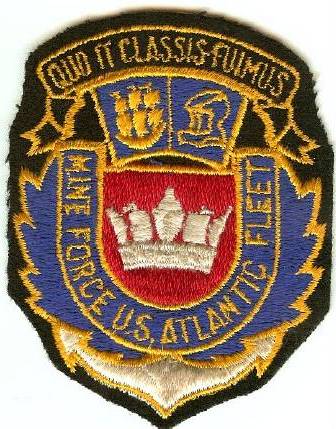 Navy Expeditionary Medal : Jan 03 1961 to Jan 27 1961 for Cuba.
Armed Forces Expeditionary Medal : Jan 24 1966 to Jan 27 1966 and Jan 29 1966 to Mar 30 1966 for Dominican Republic.
The second Limpkin (MSC-195) was laid down 17 April 1953 by Breward Marine, Inc., Fort Lauderdale, Fla., launched 22 May 1954; sponsored by Mrs. Edward Applegate; and commissioned 10 April 1955, Lt. T. E. Vines in command.
After reporting to Mine Division 45 at Charleston, S.C., 15 April 1955, the new coastal minesweeper proceeded to Narragansett Bay, R.I., for shakedown. Returning to Charleston 19 June, Limpkin trained with the Fleet Sonar School, Key West, Fla., 20 July to 3 August, then returned home for operations off South Carolina and a post shake down overhaul.
Transferred to Mine Division 41 on New Year's Day, during 1956 Limpkin worked with the Mine Evaluation Depot, Key West, Fla.; spent a gruelling month undergoing refresher training at Guantanamo Bay, Cuba: and participated in a minesweeping exercise with the Atlantic Fleet.
Shifting home port to Yorktown, Va., site of the Navy Mine Warfare School, in January 1957, for the next 2 years the ship trained Navy men in the dangers and intricacies of minesweeping operations.
Changing her home port to Little Creek Va., 1 January 1959, Limpkin operated with the amphibious forces of the Atlantic Fleet and tested experimental minesweeping gear in the Chesapeake Bay. The ship departed Little Creek 29 September 1960 for the NATO exercise "Sweepclear" off Nova Scotia. Calling briefly at Boston, Limpkin arrived Halifax 6 October and operated with Canadian minesweeps until 19 October.
Returning to Little Creek 26 October, the ship soon deployed to the Caribbean, visiting Cristobal, Panama, and San Juan, Pueblo Rico, during the 3-month cruise and participating in LANTPHIBEX 1-61. For the remainder of 1961, she patrolled Chesapeake Bay, evaluating new equipment and training recruits.
Following another LANTPHIBEX in the Caribbean during early 1962, Limpkin returned to Nova Scotia in October 1962 for a Joint operation "Sweepclear" with Canadian Mine Squadron 1. In 1963, plus operating in the Chesapeake Bay, the ship gained more invaluable training with the Canadians, as "Sweepclear" shifted to Mayport, Fla., thus providing familiarity with the breadth and unity of American-Canadian defense for the eastern coast of North America.
Limpkin continued this pattern of service, perfecting the dangerous art of mine warfare in operations along the Atlantic coast and in the Caribbean until late 1968. On 26 September 1968 she decommissioned and was placed in service as a Naval Reserve training ship, based at Perth Amboy, N.J. She continues to give reservists first hand training into 1969.
Report Date : 08 JUL 1964
Abstract : This memorandum reports on the development of a deicing coating-system service-test kit which contains all of the materials and instructions necessary for preparation, application and service testing aboard ship of deicing-coating systems. The kits are intended for distribution to vessels participating in tests of deicing-coating systems under service conditions. This memorandum also reports on a service trial of a coating system (XZ-8-3057), performed with the use of such a kit, aboard the Navy minesweeper USS LIMPKIN (MSC-195). The coating system reduced the amount of work necessary for ice removal up to 30%.
Members of the minesweeping community; The Lucid MSO-458 Foundation was formed by a group of minesweeper crewmen who served aboard US Navy MSO's. MSO's are a class of wooden hull oceangoing minesweepers that are now decommissioned and fading from public memory. The group has obtained the USS Lucid MSO-458 and has her docked at Bradford Island, California. Work has begun! The organization is restoring her and a public museum is established. The MSO is a little known and poorly documented, extremely interesting facet of Naval history. The USS Lucid Museum is dedicated to telling the story of the minesweeping men and their wooden ships, the last all wooden US Naval ships, to navigate the oceans. We will be telling the stories of Mine Recovery and UDT teams, Floating Pigs, Hammer Boxes, Magtails, Aluminum Engines and Towed Sonar. The little known stories of Contact, Magnetic and Acoustic minesweeping as well as the mystery of Magnetic Countermeasures will be told through the displays, narratives and museum media. Typhoons, tiny ships and ice-clad superstructures are only a small part of the "Wooden Ships and Iron Men" story. From sweeping the Mekong Delta in Viet Nam, observing the final Nuclear blasts on Johnston Island to sweeping the Persian Gulf, "Where the Fleet Goes, We've Been" will be clearly illustrated. Since there is no other Naval Museum that even attempts to tell the story of the MSO the USS Lucid is an important and living detail of US Naval History. First, Lucid must undergo a restoration. Previous civilian owners for commercial use have modified her. She needs hull repairs and painting and re-outfitting to be brought back to her former Naval dignity and glory. The Lucid MSO-458 Foundation has a workforce of planners, engineers and volunteer manpower who are vested and committed to this grand and worthy project. Bringing her to life is a large financial undertaking. We're looking for tax-exempt gifts from the Military Industrial sector and individuals to help with this extremely valuable endeavor. Of course, all donors will be properly and prominently acknowledged aboard the vessel. Your donation will help preserve this vital part of Naval History. Please join us in telling the MSO story by sending a tax-exempt gift to Lucid MSO-458 Foundation, a 501 (c)(3) non-profit foundation through our website.
http://www.usslucid.org
W.W."Mike"Warren EN2