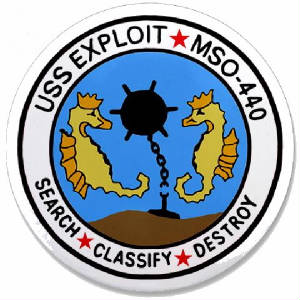 Laid down 28 December 1951 at Higgins Inc., New Orleans, LA
Launched 10 April 1953
Commissioned USS Exploit (AM-440), 31 March 1954
Reclassified as an Ocean Minesweeper, MSO-440, 7 February 1955
Decommissioned 16 December 1993 and laid up in the Atlantic Reserve Fleet, Naval Inactive Ship Maintenance Facility, Portsmouth, VA
Struck from the Navy Register 28 March 1994
Sold for scrap 4 December 2000 to Baltimore Marine Industries of Baltimore, MD.
Displacement 775 t.
Length 172'
Beam 35'
Draft 12'
Speed 14 kts.
Complement 78
Armament: As built, one 40mm gun mount and two .50 cal. machine guns. Final configuration, bow gun replaced by one twin 20mm gun mount, two .50 cal. machine guns remain
Propulsion: Four Packard ID1700 diesel engines, replaced by four Waukasha Motors Co. diesels, two shafts, two controllable pitch propellers.
These new minesweepers were smaller and built primarily of wood , with bronze and stainless (non-magnetic) steel fittings to minimize their magnetic signature. All of the 1950 era MSOs had UQS-1 mine-locating sonar, later updated with SQQ-14 sonar. MSOs were capable of sweeping for moored, bottom contact, magnetic and acoustic mines.
CALL SIGN

November Romeo Echo Bravo
Sign The Logbook  View The Logbook