WOODEN SHIPS & IRON MEN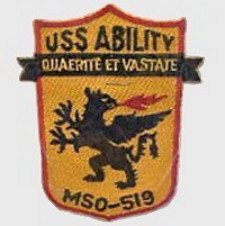 Ability Class Minesweeper: Lead ship of the Ability Class Minesweepers; Laid down, 5 March 1956 at Peterson Builders, Inc., Sturgeon Bay, WI.; Launched 29 December 1956; Commissioned USS Ability (MSO-519), 4 August 1958 at Boston Naval Shipyard, Boston MA.; Decommissioned June 1970; Struck from the Naval Register, 1 February 1971; Final Disposition, sold for scrapping, 3 January 1972 to Union Minerals and Alloys, New York, NY, for $17,688.
Specifications: Displacement 934 t; Length 190'; Beam 36'; Draft 12'; Speed 15 kts; Complement 5 Officers, 80 Enlisted; Armament one 40mm gun mount, two .50 cal machine guns; Propulsion, Twin shafts, each driven by one 1400 Horsepower General Motors(GM) 8-498 Turbo Charged(5700 CFM), Two Cycle Diesel, coupled via an AirFlex pneumatic clutch to a Faulk 3:1 reduction gear driving a Farrell-Birmingham hydraulically controlled, variable pitch propeller. The hydraulic pitch control motor was powered from the engine not the reduction gear. This arrangement allowed the air clutch a rapid decoupling of the engine from the reduction gear while still maintaining propeller pitch control down the shaft. The shaft could be stopped injust a few seconds this way.
Magnetic Sweep; 2350 KW Westinghouse Electric generator; equipped with heaters, as well as salt water cooling through Admiralty Metal piping. Pulse capability of7200* amperes, duration sustained by 11 ton, nonmagnetic, Austenitic stainless steel flywheel.-Prime Mover: I GM 8-498 Turbo Charged, Two Cycle Diesel.
Acoustic Sweep: 250 KW variable frequency generator, 0-400 ~, for Rotovac and Wapavac operation -Prime Mover: 1 440 HP GM 8-268A
Ship' Service: 3 DELCO 100 KW 440 VAC, 60 -generators
-Prime movers: 3 ea. 153 HP GM 6-71 Diesels
Fresh Water: 2000 gal/day Badger distilling plant
Hotel Steam: 125 PSI CycloTherm firetube boilers
These new minesweepers were smaller and built primarily of wood , with bronze and stainless (non-magnetic) steel fittings to minimize their magnetic signature. All of the 1950 era MSOs had UQS-1 mine-locating sonar. MSOs were capable of sweeping for moored, bottom contact, magnetic and acoustic mines.

CALL SIGN

NOVEMBER MIKE YANKEE GOLF
WOODEN SHIPS AND IRON MEN a book by CDR David D.Bruhn USN RET.The history of our MSO's from 1953 to 1994. To learn more about this excellent minesweeper book please visit CDR Bruhn's website at the link below.
Mesothelioma

Center