WOODEN SHIPS & IRON MEN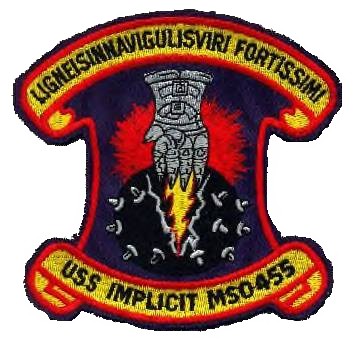 Aggressive Class Minesweeper: Laid down, 29 October 1952 at Wilmington Boat Works, Wilmington, CA; Launched, 1 August 1953; Commissioned USS Implicit (AM-455), 10 March 1954; Redesignated as an Ocean Minesweeper, MSO-455, 7 February 1955; Decommissioned, 30 September 1994 and sold to Taiwan the same day under the Security Assistance Program; Renamed Yung Yang (M 1306); Struck from the Navy Register 20 November 1994.

Specifications: Displacement 775 t; Length 172'; Beam 35'; Draft 12'; Speed 14 kts; Complement 78; Armament, as built, one single 40mm gun mount, two .50 cal. machine guns, final configuration, bow gun replaced by one twin 20mm gun mount, two .50 cal. machine guns remain; Propulsion, four Packard ID1700 diesel engines, replaced by four Waukasha Motors Co. diesels, controllable pitch propellers, two shafts.
These new minesweepers were smaller and built primarily of wood , with bronze and stainless (non-magnetic) steel fittings to minimize their magnetic signature. All of the 1950 era MSOs had UQS-1 mine-locating sonar, later updated with SQQ-14 sonar. MSOs were capable of sweeping for moored, bottom contact, magnetic and acoustic mines.

CALL SIGN

NOVEMBER INDIA JULIET INDIA
Do you have a Mighty I story for the history page?Also looking to add history from 1967 to 1994.
Mesothelioma

Center