WOODEN SHIPS & IRON MEN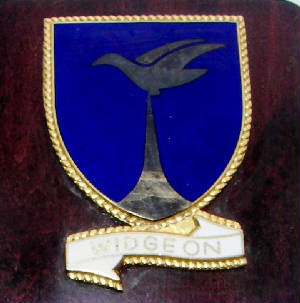 Courtesy of Edward Peed
Redwing Class Motor Minesweeper: Laid down 3 May 1954 as AMS-208 by Bellingham Shipyards, Inc., Bellingham, WA; Launched, 15 October 1954; Reclassified as a Coastal Minesweeper, MSC-208, 7 February 1955; Commissioned, USS Widgeon (MSC-208), 16 November 1955; Decommissioned, 10 October 1969 at Long Beach, CA and placed in service as a Naval Reserve Training Ship; Placed out of service and struck from the Naval Register, 2 July 1973; Scrapped in June 1974.
Specifications: Displacement 412 t.; Length 145'; Beam 28'; Draft 12'; Speed 12.8 kts; Complement 40; Armament one single 20mm gun mount, two .50 cal. machine guns, one 81mm mortar; Propulsion two 880bhp General Motors 8-268A diesel engines, Snow and Knobstedt single reduction gear, two shafts.
Coastal minesweeper nonmagnetic construction, wooden hull and stainless steel, aluminum, and bronze engine and hull fittings.Fitted with UQS-1 sonar. Range is 2500 miles at ten knots.

Mesothelioma

Center