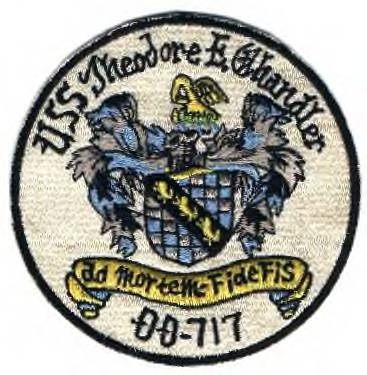 CLASS - GEARING As Built.
Displacement 3460 Tons (Full), Dimensions, 390' 6"(oa) x 40' 10" x 14' 4" (Max)
Armament 6 x 5"/38AA (3x2), 12 x 40mm AA, 11 x 20mm AA, 10 x 21" tt.(2x5).
Machinery, 60,000 SHP; General Electric Geared Turbines, 2 screws
Speed, 36.8 Knots, Range 4500 NM@ 20 Knots, Crew 336.
FRAM I Conversion Shipyard: San Francisco Naval Shipyard, San Francisco, CA
FRAM I Conversion Period: February 1961 - January 1962
Propulsion system: General Electric geared turbines; 60,000 SHP
Propellers: two
Length: 391 feet (119.2 meters)
Beam: 41 feet (12.5 meters)
Draft: 18.7 feet (5.7 meters)
Displacement: approx. 3,400 tons full load
Speed: 34 knots
Aircraft after FRAM I: two DASH drones
Armament after FRAM I: one ASROC missile launcher, two 5-inch/38 caliber twin mounts, Mk-32 ASW torpedo tubes (two triple mounts)
Crew after FRAM I: 14 officers, 260 enlisted
Operational and Building Data
Laid down by Federal Shipbuilding, Newark NJ. April 23 1945.
Launched October 20 1945 and commissioned March 22 1946.
Stricken April 1 1975.

CALL SIGN

November Hotel Uniform Kilo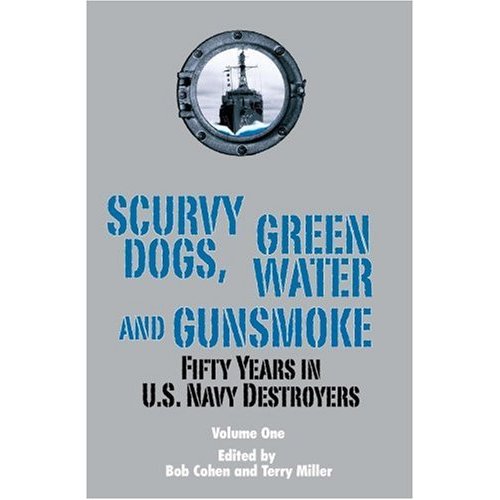 Scurvy Dogs, Green Water and Gunsmoke: Fifty Years in U.S. Navy Destroyers is a two-volume work of 18 destroyer veterans, many of whom, including TCS Executive Director, Terry Miller, have had stories published in The Tin Can Sailor. These two books are filled with stories from the experiences of these men and all profits from the books will benefit Navy-Marine Corps Relief. To purchase these excellent books click on the link below.
UPDATED:MAY 07 2008
Mesothelioma

Center